With

AoA DVD COPY

, you own the most efficient way to

create backup copies of your DVD movie collection

. These working copies allow you to play your DVDs on home and computer DVD players every day without the inevitable risk of getting your originals scratched or damaged. You get disc protection with no loss of playback quality.
Protect Your DVDs from Scratches or Loss!

Copy your DVD movies onto DVD discs with one click.
Back up your DVDs on your hard drive.
Supports DVD+R/RW, DVD-R/RW, DVD+R DL disc.
True quality 1:1 copies of your DVD movies.


Why AoA DVD COPY is the best solution for you
| | |
| --- | --- |
| | Copy single-layer DVD5 movies onto one single-layer (DVD5) DVD+R/RW DVD-R/RW discs. |
| | Copy dual-layer (DVD9) movies onto one dual-layer DVD+R/RW DVD-R/RW discs. Guide |
| | Shrink and copy a dual-layer (DVD9) movie into one single-layer (DVD5) saving disc space in high quality . Guide |
| | Split and copy a dual-layer (DVD9) movie to 2 single-layer (DVD5) discs with all the special features, menus, subtitles and languages. |
| | Copy a DVD to your hard drive in DVD file structure so that you can watch a DVD movie or burn a DVD disc from the hard drive. Guide |
| | |
And More...
Perfect Video Quality
Ability to make true quality 1:1 copies of your DVD movies. The copied DVD is the same as the DVD movie you bought.
Fast Copying Speed
Direct burn to the target disc makes it really quick and easy to create DVD copies and backups.
Copying a single-layer DVD movie can be finished in 20-40 minutes depending on your system performance.
Simple to use
Your favorite DVDs are just one click away from being cloned.
Copies can be played back on home and computer DVD players.
Compatibility in NTSC and PAL format DVD movies.
Supports copy CSS (Content Scrambling System) protected DVD movies.
With simplified copy and burning capabilities, AoA DVD COPY is ideal for consumers who want a fast, easy way to protect and share their personal DVDs. Simply press one button and you can copy your DVD movies to your hard drive or to DVD+R/RW discs.

Featuring a fresh, new intuitive wizard-like user interface, AoA DVD COPY appeals not only to first-timers and novices, but also to advanced users who demand all the technical control options.
AoA Bundle: DVD COPY + DVD RIPPER

+

The Complete Solution for DVD Backup

US$ 79.9 $58.9

26% OFF!
5 AWESOME PRODUCTS FOR ONLY &92.8!

Save $92

!

+
+
+

+

US$ 184.80 $92.8
50% OFF!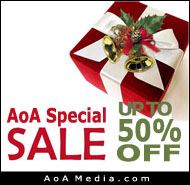 Won Tucows' 5 Cow Award

Aug 20th, 2005
AoA DVD COPY won Tucows' 5 Cow Software Award.


I've always wanted a program to back up my DVDs, and this proved to be a simple yet effective program.
Happy Users

Fast and easy

Online help + guides

Fast email support

Secure online payment

Instant Key Delivery
Won Tucows' 5 Cow Award
Dick - Lake Elsinore California
I just wanted to drop you a line and thank you for a wonderful product. I have used it many, many times and each time I use, I find it totally unbelievable how quick it is to use, how easy it is to record movies, and your technical support staff was "Johnny on the Spot" with an issue I had once, but, you guys came to the rescue. Thank you for making copies of DVD's so easy and affordable. $39.95? Absolutely a terrifc price for an even more terrific product. Kudo's to you and your staff from a very, very happy customer. I am going to spread the word amongst my friends......keep up the great job!!!!!
Allen D, Canada
Really good price comparing to other DVD software which do the same thing.
I thank you for your program. I do not intend or plan on using your software for anything other than simply making a copy of bought dvd's thus allowing my "original" to remain in pristeen condition. So far it appears to work very well. In fact I would have to say it outperforms DVD_SHRINK, which I tried along with yours. I found yours to be easier to use. Simply insert DVD, click copy, and then it asks for the blank to be placed in, and boom
all is as good as the original.